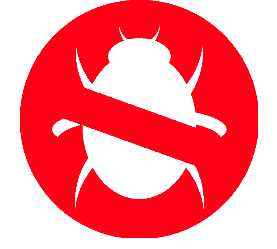 Je bent op deze pagina terecht gekomen omdat je informatie zoekt over malware. Misschien heb je wel last van malware of heb je ergens over malware gelezen. Malware is niets anders dan een verzamelwoord voor verschillende soorten cyber dreigingen. Hier vallen dus virussen, adware, spyware, bots maar ook ransomware onder. Er wordt steeds meer malware gevonden, in de afgelopen drie jaar tijd is er meer malware gevonden dan in de afgelopen tien jaar tijd.
We kunnen eigenlijk niet meer zonder computers en het internet ondanks de grote hoeveelheid malware die erop aanwezig is. Het is belangrijk dat we ons goed blijven beschermen tegen nieuwe malware- en cyber dreigingen. Aan de hand van onze artikelen willen we je informatie bieden over hoe je dit kunt doen.
5 veelgestelde vragen omtrendt malware.
1. Hoe weet ik of ik besmet ben met malware?
2. Hoe ruim ik malware op?
3. Hoe voorkom ik malware?
4. Wat zijn de kenmerken van malware?
5. Wat zijn de DO's en DON'Ts bij malware?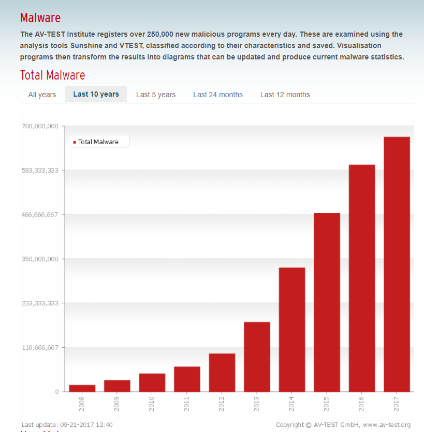 (bron AV-test.org)
Hoe weet ik of ik besmet ben met malware?
Het antwoord op deze vraag is eigenlijk "dat weet je nooit helemaal zeker", echter ben je met zo'n antwoord van ons vast niet tevreden. Daarom geven we je enkele tips aan hoe je malware kunt herkennen als gebruiker. Malware is als een griepje. Je merkt misschien niets wanneer de malware binnenkomt, maar zodra de kenmerken van malware zich voordoen, weet je dat je geïnfecteerd bent met malware. De infectie vind ongemerkt plaats, net als de overdracht van bijvoorbeeld griep. Je merkt een besmetting op doordat er plotseling foutmeldingen op het scherm komen, je continue verontrustende advertenties voorgeschoteld krijgt of misschien is Google niet meer de Google die je gewend was te gebruiken. Juist de malware heeft de startpagina veranderd, de zoekmachine en de instellingen van je internetprogramma. Malware kan ook blauwe schermen veroorzaken, het internet langzamer maken. Maar misschien twijfel je nog steeds of je wel last hebt van malware. Om goed te kunnen vast stellen of je daadwerkelijk bent besmet met malware kun je gebruik maken van een antimalware scanner.
Twee goede gratis anti malware scanners zijn, MalwareBytes Anti Malware en AdwCleaner. Deze programma;s scannen je systeem op malware infecties. Je kunt Malwarebytes en Adwcleaner verkrijgen op onderstaande websites:
- https://www.bleepingcomputer.com/download/adwcleaner/
- https://www.bleepingcomputer.com/download/malwarebytes-anti-malware/
Later zullen we handleidingen toevoegen over hoe je malware kunt verwijderen met behulp van deze programma's.
Hoe ruim ik malware op?
Malware opruimen doe je o.a. met de programma's die we zojuist hebben aangereikt. Deze programma's vinden niet alleen aanwezige malware op je systeem maar verwijderen deze ook gelijk voor je na voltooiing van de scan. Je dient hier wel akkoord voor te geven. Het kan zijn dat de malware persoonlijke documenten detecteert als malware, let hierbij op: deze programma's nog onze website is aansprakkelijk voor eventueel gegevensverlies voortvloeiend uit gebruik van deze software. Mocht de malware nog niet verwijderd zijn nadat je de bovenstaande scans van MalwareBytes en AdwCleaner hebt uitgevoerd is het misschien nodig om het systeem te scannen met zwaarder geschut. HitManPro is hier misschien wel geschikt voor. HitManPro is van Nederlandse makelaardij en maakt gebruik van diverse antivirus engines om de malware op te sporen en te vernietigen.
Nadat je met al deze programma's de scan hebt uitgevoerd en de malware hebt verwijderd kun je er vanuit gaan dat de malware is verwijderd. Mocht je hierna nog steeds last hebben van echte hardnekkige malware dan kun je altijd contact met ons opnemen. Wij zullen dan een herinstallatie van het systeem kunnen uitvoeren voor je met behoudt van je data. (foto's, video's, documenten en overige data). Het is overigens aan te bevelen om bij een besmetting altijd een volledige herinstallatie van het besturingssysteem te doen. In de praktijk is dit echter vaak niet haalbaar, indien de malware goed is opgeruimd is dit naar onze mening ook een beetje overdreven.
Hoe voorkom ik malware?
Malware voorkomen begint met een goede beveiliging en goed beveiligingsbeleid. Draait er een goed antivirus / internet security pakket op het systeem? Heb je MalwareBytes geïnstalleerd staan? Draai je regelmatig een (automatische) scan van het systeem? Installeer je de Windows updates automatisch? Gebruik geen illegale software en download deze zeker niet op je systeem. Download patches van je software, (adobe, chrome, spotify) veel software doet dit automatisch voor je. Een aantal goede internet security oplossingen updaten ook geïnstalleerde software automatisch. Houdt er rekening mee dat gratis antivirus oplossingen vaak extra geld vragen voor funcionaliteit als automatische updates van software.
Wat zijn de kenmerken van malware?
De kenmerken van malware zijn divers, maar over het algemeen kan worden gesteld dat malware de werking van het systeem beïnvloed in negatieve zin. De computer of laptop toont andere meldingen die voorheen niet kwamen of de startpagina is veranderd. Malware is een verzamelwoord voor virussen, spyware, adware en andere cyberdreigingen. Een kenmerk van spyware is bijvoorbeeld dat het je surfgedrag deelt met de ontwikkelaars van de spyware. Adware toont veel advertenties op je systeem. Bots vallen andere computers aan op het internet. Ransomware versleuteld bestanden zodat je geen toegang meer hebt tot je bestanden.
Wat zijn de DO's en DONT's van malware?
DO installeer een goed beveiligsinspakket dat wordt ondersteunt door een firewall, zoals bijvoorbeeld Kaspersky Internet Security. Wees er zeker van dat de beveiliging real-time bescherming biedt tegen dreigingen, en regelmatig het systeem scant op malware.
DO houdt geïnstalleerde software up-to-date. Vooral webbrowsers als Chrome, Firefox en Internet Explorer. Maar ook plugins als Java, Flash en Quicktime.
DO scan altijd bijlagen in je e-mail met antivirus alvorens deze te openen.
DO let op telefoontjes, e-mail en pop-ups die je krijgt welke aanbieden je computer te repareren. Microsoft zal je nooit zomaar bellen om je te informeren over een probleem met je computer.
DON'T gebruik geen USB sticks, SD kaarten, of andere media van onbekende bronnen afkomstig..
DON'T download geen software afkomstig van onbekende bronnen.
DON'T open geen bijlagen van onbekende afzenders.
DON'T open geen bijlagen van bekende afzenders zonder te verifiëren of de e-mail legitiem is. (denk aan facturen van telecomproviders ontvangen per e-mail)
Wij hopen dat je met deze tips weer veilig het internet kunt gebruiken! Mocht je nog vragen hebben of hulp willen bij zaken die te maken hebben met malware, bel ons dan gerust bij iWally.