Misschien ben je wel op onze website terecht gekomen nadat je een telefoontje hebt gehad van Microsoft. Misschien hebben ze je ook wel verteld dat je computer een virus bevat of anders wel SPAM e-mails verstuurd en dat hun dat graag willen oplossen voor jou. Let op: Trap er niet in!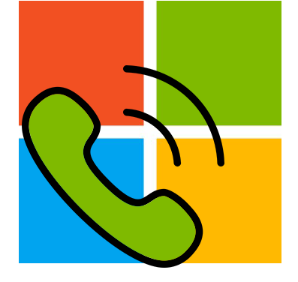 Meestal worden deze gesprekken gevoerd in gebrekkig Engels, de persoon beweert te werken voor Microsoft in de Verenigde Staten of in een ander land, soms India.
Microsoft belt nooit op om u te vertellen dat uw computer geïnfecteerd is.
De mensen die naar je opbellen gaan als volgt de werk, ze vertellen je om te beginnen een hoop over je computer om je zo maar te overtuigen dat je echt met Microsoft aan de lijn bent.
Vervolgens wordt je gevraagd om enkele commando's uit te voeren of acties. Deze commando's roepen de interne logboeken van Windows aan waarin veel diagnostische foutmeldingen worden opgenomen. Deze foutmeldingen kunnen over het algemeen geen kwaad en zijn puur voor diagnostische doeleinden bedoeld.
De persoon aan de telefoon zal u echter proberen te vertellen dat al deze foutmeldingen virussen of malware of iets anders is, en dat deze dienen te worden opgelost en dat zij je daarmee zullen gaan assisteren.
De commando's die vaak worden gebruikt zijn eventvwr, (event viewer) en bijvoorbeeld deltree. Commando's waar niets mis mee is, maar die je wel een vertekend beeld kunnen geven. Mocht je tijdens het telefoongesprek deze commando's hebben uitgevoerd dan kan dat vrij weinig kwaad, het tenslotte om u te overtuigen dat u echt Microsoft aan de telefoon heeft.
Uiteindelijk zal de persoon nu proberen toegang te krijgen dat je computer of laptop op afstand. Hiervoor zal u nog enkele instructies krijgen waarin bijvoorbeeld zal worden gevraagd naar een bepaalde website te gaan en een applicatie te downloaden.
Waarschuwing: geeft nooit iemand zomaar toegang tot uw systeem op afstand als u zomaar gebeld wordt. Ga ook niet naar websites die u worden gegeven!
Waarom wil men toegang tot mijn computer?
De reden waarom deze mensen toegang willen tot je computer of laptop is niet zo zeer jij, of jouw systeem. Deze oplichting wordt continue uitgevoerd met alle telefoonnummers die men in hun bestand heeft. Ga je er niet mee verder dan gaan ze over naar het volgend mogelijk slachtoffer.
Wat gebeurd er als je toegang hebt gegeven?
Nadat je toegang hebt verleend aan deze criminelen, zullen ze met verschillende "trucs" komen. Enkele jaren geleden werd vaak geprobeerd je een duur niet werkend antivirus pakket te verkopen voor enkele honderden dollars.
Tegenwoordig probeert men andere dingen, zo wordt soms geprobeerd om de toegang tot je computer op een later tijdstip mogelijk te maken. Dit doet men door stiekem een applicatie te installeren waarvan je eigenlijk niets merkt.
Op deze manier kan men later in je internetbankieren account van de bank, of bijvoorbeeld andere kwaadwillende handelingen uitvoeren die schade aan jou of anderen kunnen toebrengen.
De mensen die deze oplichting uitvoeren worden telkens geavanceerder in hun werk. Let dus goed op dat je nooit toegang geeft op afstand.
Wat moet je doen als je toegang hebt gegeven tot je systeem?
Sommige websites raden u aan om slecht een virusscan en scan op malware uit te voeren nadat je iemand toegang hebt verleend tot de computer op afstand. Wij denken echter dat dit van onvoldoende niveau is om te kunnen concluderen dat de computer of laptop volledig schoon is.
Traditionele scanners scannen niet op onbeheerde toegang, laat een expert naar je systeem kijken.
Kijk naar recent geïnstalleerde applicaties op je systeem. Misschien staan hier vreemde dingen tussen.
Het is een heel goed idee om Systeemherstel uit te voeren naar een eerder tijdstip of datum. Hierdoor maakt u alle mogelijke ingrijpende wijzigingen ongedaan.
Verander uw wachtwoorden van uw belangrijke accounts, bijvoorbeeld e-mail en bankwachtwoorden.
Bezoek voortaan ook eens de website https://www.veiligbankieren.nl
Lees ons blog met handige beveilig tips op https://www.iwally.nl/blog
Houdt uw computer up-to-date met de laatste Microsoft updates en Antivirus updates.
Mocht u het niet vertrouwen? Aarzel dan niet en neem contact op met ons, voor een check van uw computer dan wel herinstallatie.